How did you start your day?

I started my morning with this amazing group of third, fourth and fifth graders at Southside Elementary School in Siloam Springs.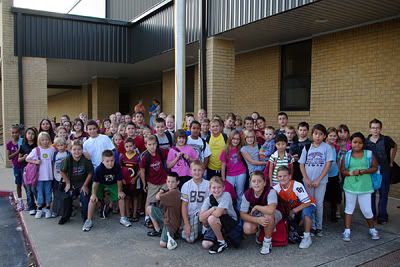 Photo by Kaylea Hutson
The students (you can't see them all....) took part in the See You At The Pole observance at their school. This is the third year students at First UMC - Siloam Springs have helped to organize the student-driven prayer event.
Typically, middle school and high school students are the ones who participate in SYATP, but three years ago, I asked the 3rd, 4th & 5th graders in Timothy Team, if they wanted to try it at their school.
A phone call to the school administration later, I found out it could take place, as long as the students did all of the groundwork - a.k.a promoting it at the school. (Who says you have to wait until the students are in middle or high school....)
For the last three years, all I've done is make a phone call to the assistant principal to let her know that the date is coming up, and make posters and postcard flyers for the students to hand out.
It's up to them to "spread" the word among their classmates.
Each year, the group has gotten bigger and bigger. Some years, students feel comfortable and pray outloud, other years, students just pray to themselves..
Mostly, it's just cool to know that this is Student Driven! Some adults came (parents & teachers) but the students who participate are the ones in charge. (I just shout out the prayer topic - to help keep things "rolling.")
This year, the students asked specifically if they could pray for their classmate - Baron Meek - who is at Arkansas Children's Hospital. I said, YES! - then showed them my list of possible topics with Baron's name front and center. It was cool to see that they were thinking of their friend this morning (without prompting by an adult!)
This morning was just an amazing experience. Thanks to Melissa Gute, from the Siloam Springs Herald Leader, I have this amazing group shot (I wanted to take it, but couldn't clone myself this morning....you can see me in the midst of the students camera in hand!)
I get goosebumps when I see the number of kids who turned out for the event.
Photo by Melissa Gute, Siloam Springs Herald Leader.
(Including Logan & Luke Haught, Susan Bishop, Lexi Arnold, Lincoln Myers & Ariel Leonard)
This is a great example of students living out 1 Timothy 4:12 - (The Timothy Team key verse):
Don't let anyone look down on you because you are young, but set an example for the believers in speech, in life, in love, in faith and in purity.
I'm so glad that I'm in a place where students feel comfortable to be an example to others. (Without putting negative pressure on others to do the same).
Here's a flash back to past SYATP's. (Obviously, the group is growing, even as the students "age" out and go on to middle and high school.
SYATP: 2008 @ Southside Elementary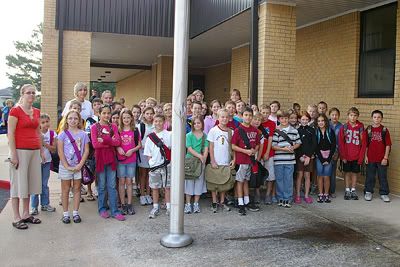 SYATP: 2009 @ Southside Elementary School