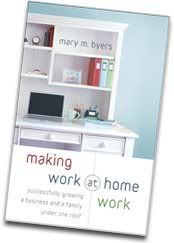 In her newest book, "Making Work at Home Work," Byers explores how at-home entrepreneurs can develop and hone their business skills, while successfully balancing personal and professional life in a home office.
"I certainly knew I didn't have all the answers and this gave me a legitimate excuse to talk to others and learn from their experience and suggestions," Byers said. "I learned that there's no "right" way to run both a home and a business under one roof.
"I was reminded that flexibility is key. As children grow and their needs change, it's possible for the business to grow and change too."
Byers breaks the book down into two sections – "saving your sanity" and "preserving your profit."
In the first section deals with the personal side of working at home and includes topics like the difference in being "at home" verses "working at home," handling client crisis and juggling child care issues.
In the second section, she focuses on the business side of working at home, including chapters related to tax issues, equipment, subcontracting, developing a business plan, and saving for retirement.
Scattered throughout her book, Byers introduces readers to 13 different women who run businesses from their home, providing different insights into the topic.
"All are either women I know or women I read about and wanted to get to know," Byers said. "There were many women I would have liked to profile but there just wasn't enough space. I do think we had a nice variety of careers represented, however."
In writing and developing this book, Byers said she has applied many of the lessons to her own life - including the realities of raising children while balancing a career and establishing boundaries between work and home.
"I recognized that my children would only be preschool age for a short time and that I could limit the work I did while they were young," Byers said. "As they entered school, I expanded my workload and became more willing to travel for speaking engagements.
"But I still limit my work. My daughter will graduate from high school in five years and my son in seven. I don't want to be so focused on work that I miss precious moments with them. Profit is important, but so are memories."
Byers said women (or men) working from home need to recognize two things when balancing a home-based business and a family.
"First, know why you are working," Byers said. "If you're working for a little extra cash, that's one thing. But if your family is dependent on your income, that's another. Knowing your primary reason for working will make it easier to make work-related decisions."
She said financial-related decisions might evolve, especially as a person's family grows and changes.
"I started working to help with vacations," Byers explained. "Now, I'm working to pay for orthodontics, college tuition and retirement."
The second reason, or thing to know before starting out, she said, is to know how much income is "enough" to meet family needs.
"Setting an income goal makes it easier to determine how many hours you to need to work each week and month," Byers said. "When I know my income goals are being met, it's much easier for me to shut my office door and walk away from work at the end of the day."
Byers said there are several benefits to working at home. She jokes that the "30-second commute" and the ability to work in her pajamas, are her favorite perks.
"I also don't have to deal with office politics on a daily basis," she continued.
Byers admits that some businesses are better suited to become home-based careers.
"It's much easier to have a home-based business if you don't have to meet regularly with clients and can do most of your work via phone, fax and e-mail," she said. "With that said, however, I know several woman who cut hair from home -- but all have equipped a separate room or area of their house for this."
Byers said it is possible to have a career, work at home and raise a family.
"First, there is more work out there for entrepreneurs than I would have guessed," she said.
"Second, it's possible to make a decent living without having to work in a traditional environment.
"Third, it is possible for hard work to pay off and dreams to come true."
Byers said many of the women she intereviewed for the book agree on one thing – balancing work and a family under the same roof is the toughest part of having a home-based business.
"Many women confided that they feel guilty while they work because it takes them away from their kids and guilty when they are not working because work isn't getting done," Byers explained. "I experienced the same tug myself. One of the great things about the book is that I was able to include some clever strategies about achieving better balance, all of which have helped me."
Years later, after establishing her home-based career, Byers said there is one thing she wished she had known as she started her business."
"I wish I had know that my business model had sustainability and I'd still be at it 11 years after starting," Byers admitted. "If I had know that then, I wouldn't have felt it necessary to say yes to as much as I did early on."
Another lesson she's learned throughout the years – back up your electronic data.
"Mozy.com is where I back up all my data files," Byers said. "It's inexpensive and I like knowing I can restore my files if I have a disaster."
For those who already have a home-based business, Byers has one piece of advice.
"How you choose to run your business in the future is more important than how you got started or how you've run it in the past," she said.
For those just setting out on the home-based business route, Byers offers some additional advice.
"I recommend starting it on the side, or as a freelance business, in order to see if the model works before you quit another job or invest tons of money into it," she said. "Working at home is great but you also have to be self-motivated and highly disciplined. Whether you're an at-home entrepreneur now or want to be in the future, good luck!"
.....Some Additional Details.....
About the book:
Making Work at Home Work
shows moms how to develop an entrepreneurial mind-set without sacrificing their families. It covers important topics such as developing a successful business philosophy, balancing time between work and family, setting realistic goals, and handling the challenges of being both "Mommy" and "CEO" while running a profitable home-based business.
In addition to including her own experiences, author Mary Byers profiles real moms with home-based businesses who offer their hard-won advice.
About Mary:
Mary M. Byers
successfully juggles both a freelance corporate writing and speaking business and her responsibilities as a wife and mother of two school-aged children. She is the author of
The Mother Load: How to Meet Your Own Needs While Caring for Your Family
and
How to Say No . . . And Live to Tell about It.
Visit her website to learn more:
www.marybyers.com
or her blog
www.makingworkathomework.com
Contest:
Contest! Win a copy of
Making Work at Home Work
(or another one of Mary's books--your choice) AND a $25 Amazon gift certificate (for some WAHM essentials – Day Planner, bubble bath, funky file-folders, toddler DVDs)!
There are three ways to win:
* Leave a comment on this post
* Sign up for Mary's quarterly newsletter where she offer tips and advice about all facets of a women's life: WAHM, mothering, women's issues. More info here! (
http://www.marybyers.com/index.cfm?pID=569
)
* Join the Work at Home Blog Ring. More info here. (
http://www.makingworkathomework.com/2009/04/new-making-work-at-home-work-blog-ring.html
)
Link to buy the book:
http://www.amazon.com/Making-Work-Home-Successfully-Business/dp/0800732758?&camp=sprightly-20
Schedule:
Want to find other blogs taking part in the blog tour? Visit this link!
http://www.makingworkathomework.com/2009/04/making-work-at-home-work-blog-tour.html
As a freelance journalist, I was provided a copy of this book by Litfuse Publicity Group. This review was not influenced by a free book - just in case you (or the FTC) were worried about this detail
.