Nothing but trouble – Introducing PJ Sugar
By Kaylea Hutson

PJ Sugar would never escape trouble.
With six simple, yet powerful words, Susan May Warren introduces her readers to the newest leading character in the fictitious world of Kellogg, Minn. - PJ Sugar.
A woman with a past, PJ Sugar has spent the last 10 years adrift, not knowing exactly where she fits in her world.
The spiral – which began on the night of her high school senior prom – starts to halt when PJ returns home to take care of her nephew, Davy, while her sister and new brother-in-law go on an exotic honeymoon.
Upon her return to Kellogg, PJ begins to confront the feelings of pain and rejection she has carried with her throughout her young life.
"We've all been there rejected, feeling like we don't fit in, not sure what to do next – wishing we could see the future, or perhaps, correct the past," Warren explained. "I wanted PJ to be real, relatable and honest."
That honesty, along with PJ's struggle with life's circumstances, provides the foundation for Warren's new series.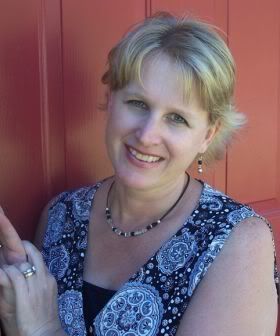 "PJ is that piece of everyone who wants to get it right and doesn't exactly know how," Warren said. "She's a girl led by her hopes and dreams, and her journey is one that I believe everyone can relate to."
Since driving away from Kellogg in her VW Beetle, life and circumstance has forced PJ to learn a variety of skills.
"I equipped her to become the person we see in [Nothing But Trouble]," Warren said. "It's a reminder that with God, nothing we do is wasted. Yay!"
Developing a new series
Warren conceived the idea for her PJ Sugar series approximately four years ago, after reading a several Janet Evanovich books featuring Stephanie Plum.
"Although I loved the quirky main character, Stephanie Plum, I didn't enjoy some of the other, more seedy characters," Warren explained. "I thought – if only I had a series like this I could read that fit my tastes more – and it occurred to me that maybe I could write one!"
While she admits PJ Sugar ended up being much different from Stephanie Plum, Warren said PJ and Stephanie share at least one characteristic.
"They both share that plucky personality that gets them in over their heads," she said. "[But I] was able to take PJ a bit deeper, and make the books more about her spiritual journey as well."
Focusing on a strong, female character
Warren said the "Trouble" books are more than a new series featuring a dominate female character. The books explore how a woman can fit into her world as a new creation in Christ.
"I hope people can see [through PJ's eyes] that God can use them even if they feel like they don't fit in," Warren continued. "[I hope people] understand that God can use them – regardless of who they are, or what they've done."
Nothing But Trouble, the first book in the PJ Sugar series, expands upon the various roles PJ Sugar – and many women – undertake each day.
"As a woman, I wear many hats – mother, wife, Sunday school teacher, writer, speaker, home decorator, etc," Warren explained. "It occurred to me that most women are the same. We are all trying to juggle our many responsibilities and figure out where we fit in the world.
"I wanted a character who exemplified this struggle – and what how she deals with it."
Warren admits she has a personal stake in PJ's development.
"I often say PJ is my alter-ego – the person I'd be without my hubby and four kids," Warren explained. "I am definitely not perfect, but I have a good God who uses me despite myself. I'm so grateful for that."
Nothing but relationships
As PJ Sugar discovers her new identity as a Christian, she is also discovering (or renewing) several relationships – including her "old" flame, Boone and a possible new love interest – Jeremy.
"I love Boone and Jeremy – the fight they have over PJ," Warren said. "PJ can make friends with so many people, as well as take on so many roles. I love PJ's quick thinking personalities, as well as her mistakes.
"I love the relationships she has with her mother, Davy and Connie, as well as the Russians [Connie's new, extended family]. Every book I fall in love more with PJ!"
As she develops her relationship with Davy, PJ begins to "rewrite" her relationship with her mother, Elizabeth.
"She finally starts to really hear what her mother has been saying to her all those years ago – because she ends up saying them to Davy," Warren explained. "It's sort of that feeling you have when you say something you never thought you would ever say - I call it 'channeling' my mother! - and then, suddenly, you are in your mother's shoes, and you really understand the full picture for the first time. It's really very freeing!"
Warren said she hopes readers learn at least one key lesson from PJ's experiences – that God can use them, regardless of who they are, or what they've done in the past.
Mixing faith and fiction
Warren weaves faith into her writing for a variety of reasons.
"I believe a true novel tells not only the physical and emotional plots, but should also reveal the spiritual life of the character," she explained. "We are all spiritual – God made us this way, so there should be a spiritual element to every character's journey.
"To me, novels should stir the soul and make a reader long for something more – in the case of inspirational fiction – a longing for a relationship with God."
A look ahead
The next book Double Trouble is set for a January 2010 release. In the book, PJ takes on the identity of another person in order to help Jeremy protect her, and finding herself in way over her head (of course!).
*********** Contest & More ************
Want to win a copy of Nothing But Trouble - I'm hosting a blog contest!
Leave a comment on this blog by Sunday, May 31, along with a funny note about how you "found" trouble (as a student, or adult) and you'll be entered into a random drawing for Susan's scrumptious book.... It's a great read!
Also...you can take part in Susan's Hunt Up Trouble contest!
Hunt up Trouble!
PJ Sugar's first novel - Nothing But Trouble is popping up all over the country! Go Hunting for Trouble, and let me know where you see the book.
Send me (Susan) the Name of the Bookstore where you found it (and the city, please), and we'll put your name in a drawing for a preview copy of
The Great Christmas Bowl
my Christmas Novella, coming out this fall! (Promo coming soon!)
And…send me a PHOTO of you and the book in the bookstore, and we'll add your name 5x!
And you'll also be eligible to win a cool SUGAR Personal SPA BASKET!!
So go....Hunt up Trouble! All the details here
http://susanmaywarren.com/contest.html
Want to read more about PJ Sugar and Susan May Warren? Check out the blog tour by
clicking here!
Pst...other blogs are hosting book giveaways as well!
Some additional 411 about Susan & PJ Sugar
About the book: PJ Sugar knows three things for sure:

After traveling the country for ten years hoping to shake free from the trail of disaster that's become her life, she needs a fresh start.
The last person she wants to see when she heads home for her sister's wedding is Boone—her former flame and the reason she left town.
Her best friend's husband absolutely did not commit the first murder Kellogg, Minnesota, has seen in more than a decade.
What PJ doesn't know is that when she starts digging for evidence, she'll uncover much more than she bargained for—a deadly conspiracy, a knack for investigation, and maybe, just maybe, that fresh start she's been longing for.
It's not fair to say that trouble happens every time PJ Sugar is around, but it feels that way when she returns to her hometown, looking for a fresh start.
Within a week, her former teacher is murdered and her best friend's husband is arrested as the number-one suspect. Although the police detective investigating the murder--who also happens to be PJ's former flame--is convinced it's an open-and-shut case, PJ's not so sure.
She begins digging for clues in an effort to clear her friend's husband and ends up reigniting old passions, uncovering an international conspiracy, and solving a murder along the way. She also discovers that maybe God can use a woman who never seems to get it right.
Read the first chapter:
http://gotsugar.susanmaywarren.com/
About Susan:
Susan May Warren is the award-winning author of seventeen novels and novellas with Tyndale, Steeple Hill and Barbour Publishing. Her first book, Happily Ever After won the American Fiction Christian Writers Book of the Year in 2003, and was a 2003 Christy Award finalist. In Sheep's Clothing, a thriller set in Russia, was a 2006 Christy Award finalist and won the 2006 Inspirational Reader's Choice award. A former missionary to Russia, Susan May Warren now writes Suspense/Romance and Chick Lit full time from her home in northern Minnesota.
As a freelance journalist, I was provided a copy of this book by Litfuse Publicity Group. This review was not influenced by a free book - just in case you (or the FTC) were worried about this detail
.