It's my 300th post - a milestone of sorts - and to celebrate, I'm reviewing a new book - Enduring Justice - and interviewing the author, Amy Wallace.
So grab a latte, keep reading and enjoy!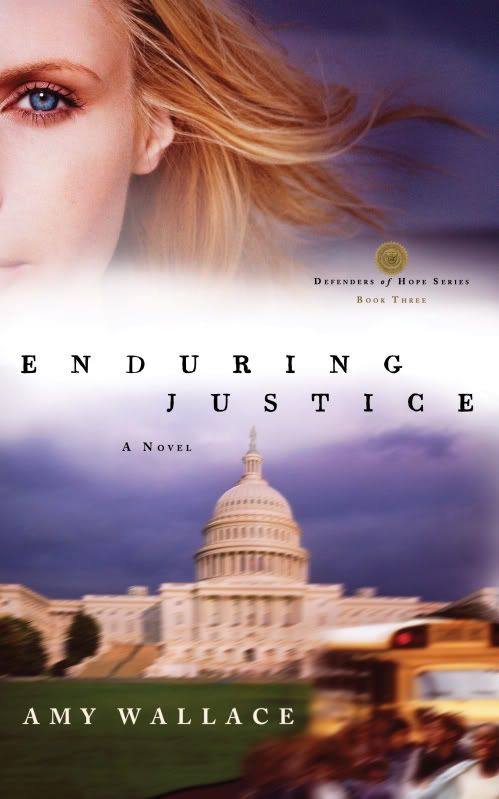 Enduring Justice
A painful past
Hanna Kessler's childhood secret has remained buried for over two decades. But when the dark shadows of her past threaten to destroy those she loves, Hanna must face the summer that changed her life and the man who still haunts her memories.
A racially-motivated killer
As a Crimes Against Children FBI Agent, Michael Parker knows what it means to get knocked down. Difficult cases and broken relationships have plagued his entire year. But when the system fails and a white supremacist is set free, Michael's drive for retribution eclipses all else.
A life-altering choice
A racist's well-planned assault forces Hanna and Michael to decide between executing vengeance and pursuing justice. The dividing line between the two is the choice to heal. But when the attack turns personal, is justice enough?
A Review: A Look Inside Enduring Justice
Normally I don't pick up the third book of a series. It's kind of like tuning into a television show mid-season, or walking into a movie well after it is in full swing.
So I was a bit skeptical when Enduring Justice, part of the Defenders of Hope series, by Amy Wallace landed on my desk.
Typically, I would bypass the third book of any series, preferring to "back track" and read the books in the order they were written by the author.
But for a variety of reasons, I decided to give Enduring Justice a chance. I found more than a novel as I dived into the pages. Instead I found a book that made me think about some deep issues.
Wallace's novel centers around two key individuals: Hanna Kessler - a photographer, businesswoman and childhood abuse survivor - and Michael Parker, a FBI agent working within the Crimes Against Children division.
(
Note:
Earlier books in the series focused on Hanna's brother, Steven – Ransomed Dreams – and family friend, Clint Rollins – Healing Promises. The three-book series focuses on FBI agents who are part of the Crimes Against Children Unit and the gritty realities they face on a daily basis.)
Enduring Justice concentrates on Hanna's story. The novel opens with Hanna's struggle to put life into perspective and with her finally coming to grips with an incident of sexual abuse she experienced before her seventh birthday.
Hanna's world turns inside out when she learns a current case under investigation by Michael, Steven and Clint, directly links back to her childhood abuser. The revelation leads Hanna to confront her abuser more than 20 years after the fact.
Wallace's writing moves fast and incorporate the points of view of several characters – including Hanna, Michael and the villains. The book's primary setting – Washington, D.C., allows Wallace to explore a variety of political themes including a sub-plot that involves a politician and a group which promotes racists ideology.
Through it all, the storyline present in Enduring Justice is gritty, and frankly, a bit raw. It's definitely not the easiest book to read, which Wallace admits is a deliberate choice. She is unapologetic concerning her choice to write a novel with a deep, disturbing subject.
"I've been told my stories aren't comfortable to read," Wallace writes in her author's note. "In some ways, that makes me smile. Because it's when I've been nudged out of my comfort zone that my understanding of God is deepened.
"It's my heart and prayer not to cause pain or be edgy for edgy's sake, but to shine a light into the darkness so those who are stumbling there might find home and healing."
Through these stories, Wallace continues, she hopes to remind people who have found hope and healing to "reach out a hand" to help others who are hurting or in pain.
I'm glad I made an exception to pick up this book. It allowed me to discover a new (to me) author, and a new Christian suspense series. While romance is a sub-plot in the story line, it is not included in an unrealistic way.
While the book wasn't an easy read, it did provide me with something to think about. It also makes me want to find the earlier books – to see how Wallace developed the Defenders of Hope series through the eyes of Steven and Clint.
Want to find out more about Wallace and her books? Check out her website at
www.amywallace.com
.
Want to read an excerpt from Enduring Justice, visit
http://amywallace.com/pdfs/Enduring_Justice_chs_1_and_2.pdf
and download a pdf of the first two chapters.
Additional information about the Defenders of Hope series can be found at
http://www.defendersofhope.com
.
Want to see what others think about the book? Check out the blog tour.....
http://peek-a-booicu.blogspot.com/2009/04/enduring-justice-blog-tour.html
(Note: You'll want to visit this link to see how you can win ALL three books in the Defenders of Hope series!)
****************
Want to learn more about Amy Wallace? Here's an interview with Amy......
Becoming a writer – Amy Wallace's journey of faith
Amy Wallace likes to joke that she was "shoved" into writing by two people – God and her husband – through a series of incidents.
"I accidentally picked up some grown-up fiction at the library while searching for some books for my children," explained Wallace. "I read that first book and six others by the same author. Then I'd ask my hubby to read them and tell him everything I'd change."
In response to her enthusiasm - Wallace even developed a story for one of the author's secondary characters – she found her husband encouraging her to write her own novel.
"My response – 'no way!'" Wallace said. "But then God gave me a dream about a man on a dangerous quest for answers and an FBI agent with a wounded heart so vivid that I couldn't forget it."
She told her husband about the dream – and he immediately helped her quest by setting up an interview with a federal agent he had met.
"I was hooked," Wallace continued. "By the time I met with the federal agent, I had a decent sketch of a story plot. We met and brainstormed for an hour.
"I left that meeting with a strong plot, characters who breathed and a deep sense that I was doing something God had called me to do."
Through those initial nudges, Wallace has developed her own style of Christian fiction, which she refers to as "Dark Chocolate Suspense."
"I love chocolate and suspense and thought they'd make an interesting combo, kinda like a Reece's Peanut Butter Cup," Wallace explained. "Dark Chocolate describes my writing - deep and sometimes dark subjects handled in a redemptive way, [or] truth that satisfies."
Mixing Faith with Romance and Suspense
Wallace likes to integrate suspense, faith and romance into her novels for a variety of reasons.
"Telling stories is as natural as breathing for me," Wallace said. "Fiction is an amazing vehicle for starting a dialogue with readers and sharing on a deep level."
Faith, she said is integral to her novels, because Christianity frames her understanding of life.
"It's who I am, so it naturally flows out onto the page," Wallace said. "I'm also painfully honest about my own struggles and questions about God, so that works its way into my stories as well."
She said romance and suspense also help build an exciting story that leaves her, as a reader and writer, satisfied.
"I don't just want to live through an adventure," she explained. "I want to learn and grow and share it with someone."


Defenders of Hope
The genesis of the Defenders of Hope series began, as Wallace watched the Twin Towers fall in New York on Sept. 11, 2001.
"I sat glued to the TV for weeks, watching the firefighters, police officers and FBI help us recover as a nation, help us remember what it means to be an American and what heroes really look like," Wallace said. "I wanted to do something to give back.
"So my family and I made cookies and cards for firefighters. We took meals to our police precincts. But I didn't know how to do something like that for the FBI. So when I had a dream about an FBI agent that became a novel, it was my way of giving back to the men and women of the FBI that serve our nation every day."
Wallace chose to center the series on agents working in the Crimes Against Children Unit – a real unit which strives to keep America's children safe from child predators. A CACU unit does work out of the Washington, D.C., area. Additional agents are stationed in each of the FBI field offices.
"I've had the privilege of talking with a Georgia Crimes Against Children FBI agent and am very thankful for the role these folks play in making the internet and our county safer for children," Wallace said. "The stories that came together [in the series] all included children, so starting with the dream I had about an FBI agent and a mom searching for answers, the natural agency to focus on was the CACU."

Real-life fears & personal experience
Wallace said in many ways, she was working through her deepest fears as a mother, as she developed and wrote the Defenders of Hope series.
"I write about crimes against children because too many children are hurt and we as parents and relatives of children can make a difference in their lives," Wallace said. "One of the things I prayed as I worked was that these novels would help parents watch their kids a little closer and pray a little more."
Wallace said she relies upon, and integrates her counseling background – she has a bachelor's degree in counseling and guidance from the University of Louisville - throughout her manuscripts.
"A counseling background comes in handy for understanding what drives humans and their fictional counterparts, as well as being able to show cause and effect for how our past shapes our future," Wallace said. "What we believe about ourselves and others drives everything we do.
"My heart is not just to show those realities but also to point people into the healing that's possible. We aren't doomed by our pasts and we don't have to continue believing things that aren't true about ourselves. Not when we can learn, grow, and help others because of the paths we've walked."
Enduring Justice
As the third book in the Defenders of Hope series, Wallace said Enduring Justice went through four fully researched outlines before she and her editor found a storyline that worked.
"It took a lot of prayer and a lot of research to move forward," Wallace said. "But comments from youth I've taught and readers about how they've experienced what Hanna experienced let me know this was a story that needed to be told."
Wallace said a lot of her personal experience – especially the feelings of shame and hiding - found its way onto the pages, as part of Hanna's story.
"It took five years for me to talk about being raped, and even then I felt so much shame and imagined blame that I still didn't share my experience with many people at all," Wallace continued. "From others, I knew that was a common thread among women who've been abused.
"All of that went into making Hanna come alive. I pray Hanna serves as a strengthening reminder that others can find the hope and healing she does in Enduring Justice."
Through it all, Wallace hopes that people look beyond Enduring Justice's exciting story, to find a deeper meaning.
"I pray that … readers will look deeper into what they believe about God, themselves and others, what forgiveness really looks like, and that they'll also wrestle with the truth that God is good even when life isn't," Wallace explained. "In addition, I pray that these stories will put flesh on the struggle with forgiveness, the lies we believe and how healing is a choice.
"[I also hope] through the characters' examples, readers will come to experience a deeper sense of God love and the power of His healing."
What's next for Wallace
Wallace jokes after three novels, it's time to give Steven, Gracie, Clint, Sara, Michael and Hanna, a time of peace and rest.
"I'm at various stages with three other suspense projects and excited about sharing more stories that showcase hope and healing and wrestling with deep truth," she said.
Who is Amy Wallace
Wallace said she wears numerous hats including those of a wife, homeschool mom, writer, speaker, president of a local ACFW writer's group, co-leader of a young writer's club and even a "chocoholic."
"I love writing stories, teaching teenagers, scrapbooking, playing basketball and hiking with my family," Wallace said. "The beach is my all-time favorite place to be. Chocolate is my favorite food. I collect teddy bears, tons of books and dust on my furniture.
"But getting to the heart of who I am can be summed up in a few short words. I'm a daughter of the King learning to live and love with laughter."
Wallace said she finds encouragement through readers' comments on her Dark Chocolate Suspense site –
www.amywallace.com
.
"It's a huge encouragement to know God has used one of the Defenders of Hope books to touch hearts and change lives," Wallace said. "So please stop by the Dark Chocolate Suspense site (
www.amywallace.com
) and leave me a note! You'll be giving me a very sweet treat."
**********************************
Additional information
Want to learn more about the Crimes Against Children Unit, a division of the FBI? Visit
http://www.fbi.gov/hq/cid/cac/crimesmain.htm
Don't forget...
About the Defenders of Hope series: Visit
www.DefendersofHope.com
Buy the book:
http://www.amazon.com/gp/product/1601420145

Excerpt:
http://www.amywallace.com/ej_chapter.html


About Amy:
Amy Wallace is a freelance writer and self-confessed chocoholic. She is a graduate of the Gwinnett County Citizens Police Academy and serves as the liaison for the training division of the county police department. Amy is the author of Ransomed Dreams, the first book in the Defenders of Hope series, and a contributing author of several books including God Answers Moms' Prayers, and God Allows U-Turns for Teens. She lives with her husband and three daughters in Georgia.
Contest:
Enter to win all THREE BOOKS in the DOH series by signing up for Amy's Dark Chocolate Suspense Newsletter and then leave a comment on this blog tour post (
http://peek-a-booicu.blogspot.com/2009/04/enduring-justice-blog-tour.html
). It's chock full of insider info on the writing world, a thought-provoking devotion, and easy but yummy recipes. If you already subscribe to the newsletter, just leave a comment saying so on the blog tour post! The winner will be chosen at random on 5/8/09. Two runner's up will also be chosen to win a copy of Enduring Justice.
Schedule for blog tour:
http://peek-a-booicu.blogspot.com/2009/04/enduring-justice-blog-tour.html
As a freelance journalist, I was provided a copy of this book by Litfuse Publicity Group. This review was not influenced by a free book - just in case you (or the FTC) were worried about this detail
.