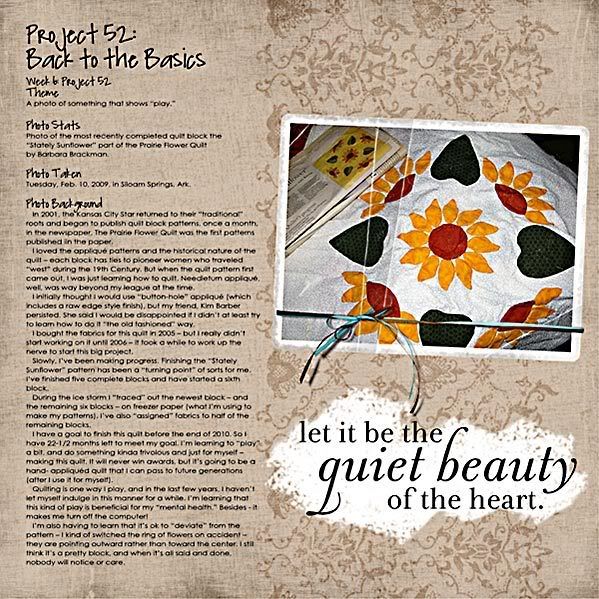 Click on the image above, to see the layout at Oscraps.
Credits: Paper & Elements - 52 Inspiration 2009 week 6, Genevieve Sass, Oscraps.com
Photo for Project 52 - ScrapArtist.com
Font: Pea Jay and Century Gothic

Week 6: Back to the Basics
Theme
A photo of something that shows "play."
Photo Stats
Photo of the most recently completed quilt block "Stately Sunflowers," part of the Prairie Flower Quit by Barbara Brackam.
Photo taken
Tuesday, Feb. 10, 2009, in Siloam Springs, Ark.
Photo Background
In 2001, the Kansas City Star returned to their "traditional" roots and began to publish quilt block patterns, once a month, in the newspaper. Their first quilt, the Prairie Flower Quilt, by Barbara Brackman intrigued me.
I loved the appliqué patterns and the historical nature of the quilt – each block has ties to pioneer women who traveled "west" during the 19th Century. But when the quilt pattern first came out, I was just learning how to quilt. Needleturn appliqué, well, was way beyond my league at the time.
I initially thought I would use "button-hole" appliqué (which includes a raw edge style finish), but my friend, Kim Barber persisted. She said I would be disappointed if I didn't at least try to learn how to do it "the old fashioned" way.
I bought the fabrics for this quilt in 2005 – but I really didn't start working on it until 2006 – it took a while to work up the nerve to start this big project.
Slowly, I've been making progress. Finishing the "Stately Sunflower" pattern has been a "turning point" of sorts for me. I've finished five complete blocks and have started a sixth block.
During the ice storm I "traced" out the newest block – and the remaining six blocks – on freezer paper (what I'm using to make my patterns). I've also "assigned" fabrics to half of the remaining blocks.
I have a goal to finish this quilt before the end of 2010. So I have 22-1/2 months left to meet my goal. I'm learning to "play" a bit, and do something kinda frivolous and just for myself – making this quilt.
It will never win awards, but it's going to be a hand-appliquéd quilt that I can pass to future generations (after I use it for myself).
Quilting is one way I play, and in the last few years, I haven't let myself indulge in this manner for a while. I'm learning that this kind of play is beneficial for my "mental health." Besides - it makes me turn off the computer!
I'm also having to learn that it's ok to "deviate" from the pattern – I kind of switched the ring of flowers on accident – they are pointing outward rather than toward the center. I still think it's a pretty block, and when it's all said and done, nobody will notice or care.