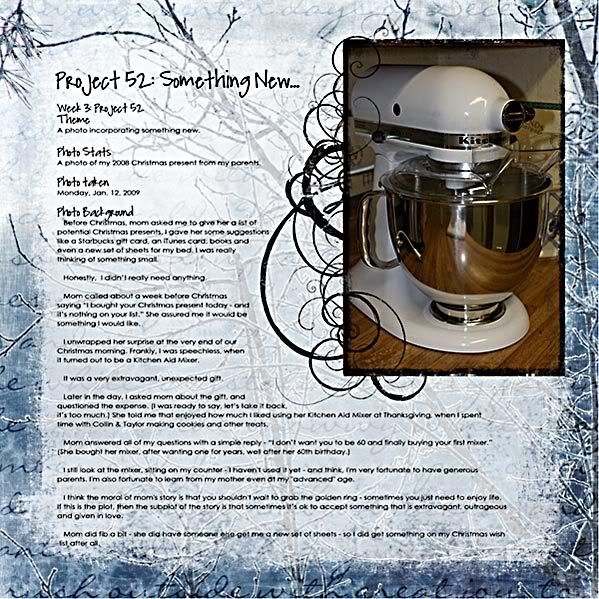 Click on the image above, to see it at Oscraps.
Credits:
Photo for Project 52: ScrapArtist.com
Everything from 52:2009 - Week 3, Genevieve Sass, Oscraps.com
Undercover mask (for white shadow), Undercover Masks Vol. 4, Ashlee Wall, Oscraps.com
Font: Pea Jay and Century Gothic
Week 3: Project 52
Theme
A photo incorporating something new.
Photo Stats
A photo of my 2008 Christmas present from my parents.
Photo taken
Monday, Jan. 12, 2009
Photo Background
Before Christmas, mom asked me to give her a list of potential Christmas presents. I gave her some suggestions like a Starbucks gift card, an iTunes card, books and even a new set of sheets for my bed. I was really thinking of something small.
Honestly, I didn't really need anything.
Mom called about a week before Christmas saying "I bought your Christmas present today - and it's nothing on your list." She assured me it would be something I would like.
I unwrapped her surprise at the very end of our Christmas morning. Frankly, I was speechless, when it turned out to be a Kitchen Aid Mixer.
It was a very extravagant, unexpected gift.
Later in the day, I asked mom about the gift, and questioned the expense. (I was ready to say, let's take it back, it's too much.) She told me that enjoyed how much I liked using her Kitchen Aid Mixer at Thanksgiving, when I spent time with Collin & Taylor making cookies and other treats.
Mom answered all of my questions with a simple reply - "I don't want you to be 60 and finally buying your first mixer." (She bought her mixer, after wanting one for years, well after her 60th birthday.)
I still look at the mixer, sitting on my counter - I haven't used it yet - and think, I'm very fortunate to have generous parents. I'm also fortunate to learn from my mother even at my "advanced" age.
I think the moral of mom's story is that you shouldn't wait to grab the golden ring - sometimes you just need to enjoy life. If this is the plot, then the subplot of the story is that sometimes it's ok to accept something that is extravagant, outrageous and given in love.
Mom did fib a bit - she did have someone else get me a new set of sheets - so I did get something on my Christmas wish list after all.