Ok, I'm a bit behind, but I'm catching up in one quick post.
I'd been hearing about Project 365 - where you take a photo a day all year, and while I think this is great, there's no way I'd be able to keep up with doing this.
But tonight, I found out about Project 52, at Scrap Artist - a challenge to take one photo each week for 2009.
A great photograph is one that fully expresses what one feels, in the deepest sense, about what is being photographed.
~ by Ansel Adams
I decided I could push myself to take 1 photo per week to document this year. I'll use the photos for this challenge, and also for a project at Oscraps using Sue Cummings stuff. (More on it later).
Anyway, I found out about this just as week 1 was closing - and I immediately had week 2's photo from something tonight.
So here's my start....
Week 1 -
Theme:
Something That Makes You Happy (and why)
Photo Title: "Trail Ride"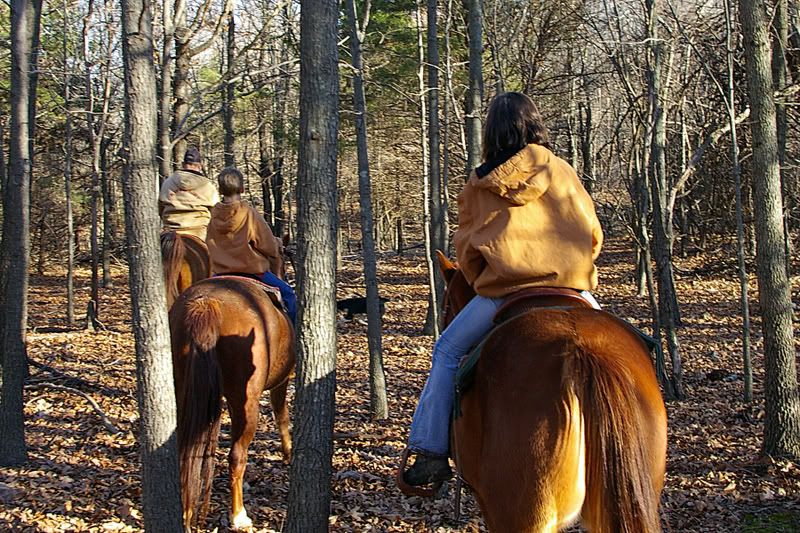 Photo Stats
My Niece - Tay, Nephew - CW & my Dad.
Photo taken: Christmas Day, 2008 (I skipped the New Year's Eve Trail Ride, so I fudged on the pic).
Photo Background
Ok, I cheated a bit. This photo was taken on Christmas Day. (I skipped the New Year's Day ride).
Going riding (even though It's uncomfortable for this "city-fied" auntie...) with my niece and nephew, and my dad, makes me happy.
I need to remember that - I get frustrated while riding, but then, when I look at the pics, it's fun.
(I almost fell off the horse on this ride...got hung up in the trees after taking this pic.)
I know it's not the most "creative" photo, but it's more of a snapshot/memory jogger of the day/event.
Week 2 -
Theme: Four
Photo Title: "The Four Amigos"
Photo Stats
Kiki - the birthday girl, (second from left), along with A, J, and Gigi.
Photo taken: Friday, Jan. 11 - her sixth birthday, Elm Springs, Ark.
Photo Background
As soon as I saw the theme "four" for this week, I thought of this picture, I snapped this evening at small group. Ki - the "birthday girl" wanted to ham it up with her sister, Gi - in the blue, and friends A & J.
I've got several pictures of these four, from the last few years. Everything from tea parties to dress up days.
They are two of my good friends daughters, and I love taking pics of the four. A (red shirt) got really sick this fall, and it's so good to see her, up and around, a happy, healthy kindergartener.
This picture reminds me to celebrate the joys of today.