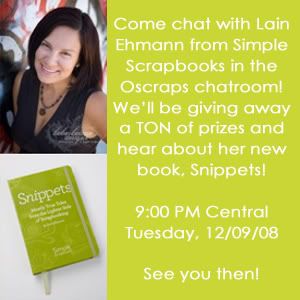 Finding humor in scrapping!: Getting to know Lain Ehmann
By Kaylea Hutson, a.k.a. Kaytebug
Think scrapbooking is a bland, boring subject? If Lain Ehmann has her way, readers of her new book will find out that scrapbooking has a humorous side.
Ehmann, a contributing editor of Simple Scrapbooks Magazine and author of the ScrapHappy blog, has completed a new book – Snippets: Mostly True Tales from the Lighter Side of Scrapbooking – featuring a collection of essays about the "crazy things" scrap bookers do in pursuit of their hobby.
"I naturally have a humorous, quirky way of looking at the world," Ehmann admits. "Often, it's a choice between laughing at myself and the world around me, or go insane! I choose to laugh (though my sanity is somewhat in question!)."
Ehmann brings her quirky way to look at the world to an on-line release party at 9 p.m. central standard time on Tuesday, Dec. 9, in the Oscraps chat room. She'll be on hand to answer questions, chat about her book of essays and award a few prizes or two [or more] from the Oscraps designers.
Jodie McNally, a designer at Oscraps and friend of Ehmann is sponsoring the release party.
More about Ehmann's essays
With stories ranging from making children pose for holiday photos in August – because the light is better – to talking about why scrap bookers hook up with strangers on-line, Ehmann said she hopes there's something everyone can relate to inside her book.
"I hope [people] find themselves between the pages," she said. "I hope they walk away with a renewed sense of how crazy and fun our hobby is, and that they are not alone in their quirky habits. I also hope they laugh so hard they spit soda out their noses!"
Ehmann decided to compile the essays for a variety of reasons.
"I'm a natural writer. I always document my life in words, and I had been writing these little stories down for quite some time," she said. "Finally, I thought, 'I have enough here for a book!'
"I also hate all the divisiveness in our hobby (and in our world as well). I thought the time was right for a book that celebrates this passion of ours, regardless of what "kind" of scrap booker you are."
Ehmann spent more than a year compiling and writing her book of essays and hopes readers will identify with what with her efforts.
A bit about Ehmann
Ehmann began working for Simple Scrapbooks as a contributing writer for more than three years. She has spent the last year and a half as an editor.
"As contributing editor I write articles, scrapbook layouts on assignment, troll the internet for good ideas, teach at Creating Keepsakes Conventions and generally do my best to be an ambassador of scrappiness to all I meet," Ehmann explained. "I was a long-time subscriber and a reader of Stacy Julian's blog.
"I have been a journalist for over 10 years, so I finally figured I should be writing about the things I really love, so I emailed her and asked if the magazine needed writers. She put me in touch with Angie Lucas, the managing editor, who assigned me an article. I guess I did a good job because they kept assigning me more and more!"
In addition to her work at Simple Scrapbooks Magazine, Ehmann is the author of the ScrapHappy blog and podcasts.
She lives in northern California, near San Jose, with her husband, John, and three children, Ben, 11, Kinsey, 8, and Callie, 4.
"I buy too many craft supplies," Ehmann jokes. "[My family] are all good sports about my endeavors," Ehmann said. "I have a sewing machine set up on the dining room table, boxes of scrap booking supplies on the stairs and yarn under my bed."
Ehmann's passion for scrap booking shortly after her oldest son, Ben's birth.
"I was invited to a Creative Memories party - I was hooked and immediately dropped $100 on a personal cutting system and enough patterned paper and cardstock to wallpaper my family room," Ehmann said. "That was over 10 years ago, and I'm still going strong!'
Since then, Ehmann said she discovered a way she can be creative, without necessarily being artistic.
"I love paper, words and photos – so it's a perfect medium for me," explained Ehmann.
Ehmann's scrapbooking style
While Ehmann is primarily a paper scrapper – with a large stash of papers and Stickles, a glitter glue produced by Ranger Industries - she has delved into the digital world – creating hybrid layouts using journaling and photo manipulation techniques.
She hopes to become more familiar with Photoshop Elements in the next year, learning how to use actions and stamps on a page, as well as creating photo collages.
Ehmann said she likes the digi-scrapping community because it seems to be a "very open, welcoming and supportive" group of people.
She also appreciates the way digital scrap bookers are always "pushing the boundaries" and trying new things.
"[I love] the idea that you can try something on a layout and if you don't like it, you can move it a different way and try it another way, without having to reprint pictures, use new materials or stress-out!" Ehmann said.