Here's some photos from SYATP at Southside Elementary School...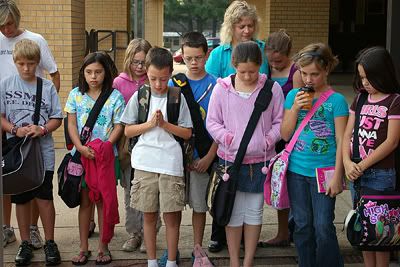 This is the report, for the school, that I submitted to SYATP...
I realize SYATP is usually for middle school/junior high/high school students.
Some of my older elementary students (third, fourth and fifth grade) heard about SYATP, and when I talked with them about it, they asked to "do it."
It was a very "laid" back event for me. I made posters (thanks for the great graphics) for the kids to hang up at school, and postcard-size flyers for them to pass out.
The kids did the rest. They hung up posters - everyone has to get a drink, so I put it by the water fountain, explained one of my girls; passed out cards; told friends, teachers and other people about it. I provided the resources and e-mailed their parents, explaining about what was happening, the students did the leg work for the event.
Working with the students, we came up with a "structure" to use for the prayer time. We prayed for things that God gives us, our families, our classmates/friends, our teachers/schools, etc...
Several of my emerging leaders each took a "topic" and prepared a prayer at home with help of their parents - many are learning how to pray out loud for the first time.
They came prepared, prayers in hand, to help get the prayers flowing as we spent our 15 minutes in front of the school; and those prayers did flow. Students prayed, they cried, they poured their hearts out to God.
We had at least 40 students who took part - not counting parents and teachers who stood alongside the kids - who participated in our small SYATP.
They are already asking to do it again next year.
This is the first time I've helped conduct SYATP at an elementary school. It truly rocked my world. It's been fun watching the young leaders in the children's ministry began to emerge. I can't wait to see them in a couple of years, when they grow into leadership positions within the youth ministry program.
Watching them yesterday reminded me why I'm involved in children's ministry. It renewed my passion for making a difference in the lives of my students - even when bogged down with paperwork and administrative stuff.