Remember the Six Degrees of Separation Game from Kevin Bacon Game?
When you tried to see how many stars you can connect to Kevin Bacon within six steps?
Well I can now get one degree from Sandra Bullock.
I "met" her husband, Jesse James - from West Coast Choppers - Friday afternoon during the "shakin' hands, kissin' babies & signing autographs" tour stop in Siloam Springs, Ark.
My friends, Kevin and Kim, who were in for Bikes, Blues and BBQ, were excited about meeting Jesse James - so I waited in line with them.
My excitement - I'm now one degree from Sandra Bullock.
Yes, I am a nerd.
Here's a few pics, to prove I met him....


Kevin & Jesse James (Yes, I'll get you the pic!)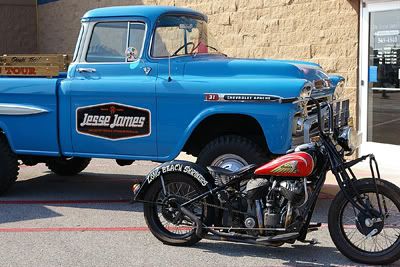 Wonder what Jesse James thought about having to make a pit stop in Siloam Springs, Ark.,
at the Wal-Mart Store (He's touring, promoting his new "working man's" clothes,
which will debut in Feb 2009, at "select" Wal-Marts.)