I'm so excited...And I just can't hide it....
The lovely and talented Rachael Giallongo has asked me to join her scraptastic team!
I'm so excited...basically, I'll get to use her templates (which I already do) to scrap pages...Wahoo! What a gift. I love taking her templates and letting my muse run with them...I don't feel guilty for using templates...think of it like a quilt pattern.
I start with the "pattern" and then run with it...
Look what nice things she had to say about me...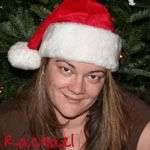 I am excited to welcome a new member to my Creative Team- Kaylea! Not only is this gal talented, but she really has her head on her shoulders and I enjoy chatting with her! :)
Her fab store at The Digi Shoppe
Quick, somebody warn her...my head's full of sugar right now (shh! I overdid it at lunch). I'll start again tonight...and this afternoon...1 litter of water down, several more to go...I'm going to "flush" the sugar out...lol.
Anyway. I'm also starting to think of my EOL words (that's Encyclopedia of an Ordinary Life in short hand).
Maybe this will be a fun "journaling" type of scrapping for me.
Have a good day.
K